PEACE FROM THE SOIL – Kenia
"Taking care of the soil means taking care of myself [and] I will

build peace inside me and get healing."

Emmanuel Karisa Baya, PFTS
---


Peace from the Soil (PFTS) is a non-partisan grassroots community group formed after the 2017 general elections in Kilifi County, Kenya – a region characterized by extreme poverty and low levels of formal education.
What is our vision?
We envision breaking the vicious circle of deforestation and poverty, through planting trees and re-foresting in our region. Making our land green again, will counteract soil erosion and improve rainfall, soil quality and harvest yields. We believe that food security in the place of poverty paves the way for peaceful, shared coexistence.

We envision securing peace in our region through two related pathways: communal, rural development and civic education. On our first path, we focus on poverty reduction and the creation of economic opportunity. On our second we promote civic education and political literacy. At root, we believe that peace comes from the soil – this is reflected in our name: Peace from the Soil and our approach of participatory project design in harmony with nature's resources!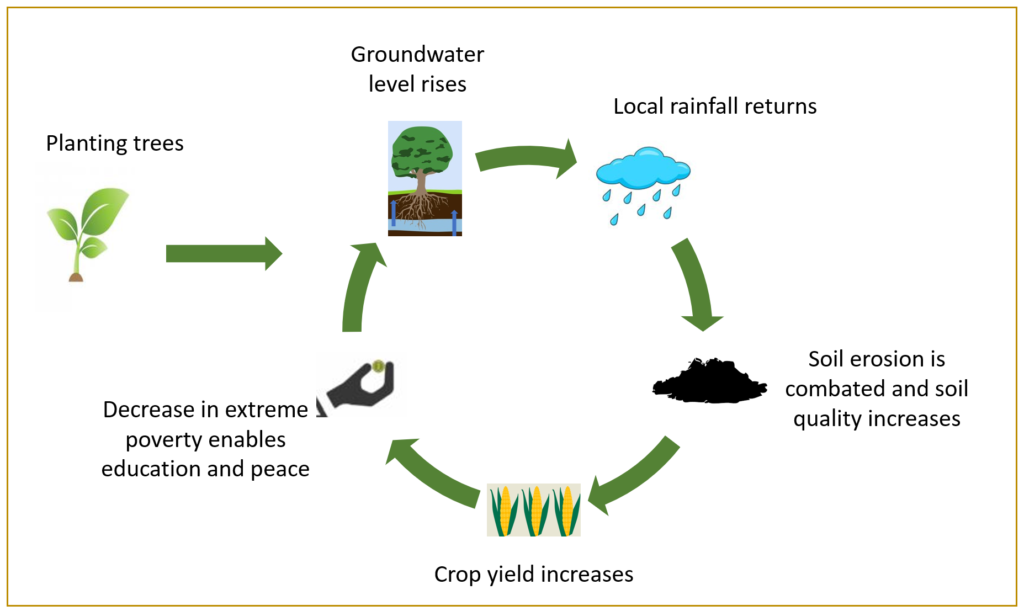 What is our mission?
The mission of Peace from the Soil is to promote political and economic change in this region. This includes empowering citizens economically and making them more aware of their democratic rights. We work to raise citizens awareness of widespread electoral mal-practice and increase their ability to make better choices.

Peace from the Soil works at various levels to implement the vision of peace through community-based rural development and civic education:

Peace from the Soil organize planting campaigns for local farmers who maintain responsibility to care for the trees, enabling them to survive periods of drought.

Initially, seedlings were donated by individual farmers who were involved. Now we are looking for supporters to establish a tree nursery to select and grow seedlings for extensive and sustainable planting in the region. This will create jobs and a pool of knowledge about cultivation, planting and arboriculture techniques that can be accessed by all those involved. A suitable site has already been leased.

So, by donating to our organisation, you contribute to the global ecosystem and help to secure the livelihood of the planters!


In the civic education process initiated by Peace from the Soil since the 2017 General Elections, the first task was to understand the voting behavior and understanding of democracy among eligible voters in our Ward. To this end, in 2019 we commissioned the Munich-based research institute QMR to conduct the qualitative social research study "Concepts of Democracy in Rural Kenya."
The PaCE-Program
Training "normative knowledge" and "experiential learning" by group process
Building on these findings, PFTS is currently implementing a 1-year participatory civic education program ("PaCE") in which a total of 30 people from Marafa Ward are being trained as trainers ("TOTs"). These 30 TOTs visit the people in the 5 sub-locations of Marafa Ward and impart important contents on the topics of human rights, participation (citizen involvement), the budgeting of public funds and basic features of the Kenyan constitution in regularly held so-called roll-out workshops. Forum theater, role-playing and traditional singing with topical song lyrics are used to convey important topics as vividly as possible in order to reduce fear of contact with civil rights and encourage the population to participate politically. Over the course of the 1-year PaCE program, the TOTs grow into the role of community resource persons (community helpers) who provide advice and know-how to people in the villages when citizen interests and perceived injustices are to be addressed to political leaders.
Practice of traditional songs, forum theatre and public speaking during supervised roll-out-workshops
The PaCE program will run from January 2021 to probably January 2022 under the responsibility of the CBO Peace From The Soil. We would like to thank the Konrad Adenauer Foundation Nairobi for supporting the program both financially and through the irreplaceable efforts of this foundation's content trainer, Dahir Daud. The newly learned theoretical knowledge is deepened with the TOTS through experiential learning. For this, the project coordinator Emmanuel Karisa Baya applies his expertise as a facilitator according to the Deep Democracy/Process Work approach. The methodical know-how, in turn, with which means the teaching content can be optimally conveyed to the population, is taught in a vivid and entertaining way by the experienced theater expert Tenga Mwinyihaji.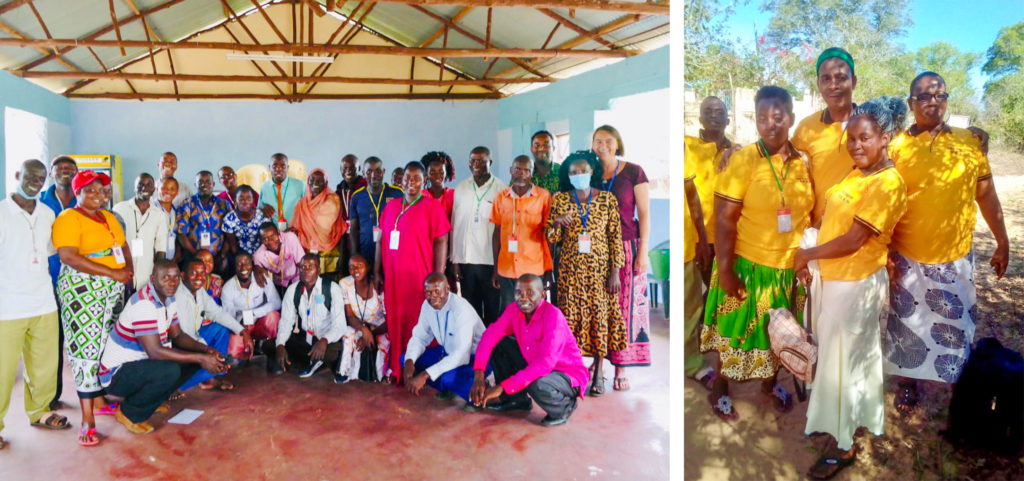 The 30 TOTs with trainers in their uniforms reading "be prepared to make informed decisions"
QMR is responsible for the conceptual support, the coaching of our team and the coordination of the entire program.
But: significantly responsible for the implementation and success of the program are our TOTs, who are willing to learn a lot, give a lot and whose commitment makes this program possible in the first place! 1000 thanks to you!

"Seeds meet Needs" Our community faces a number of acute challenges, a situation exacerbated by the current Covid-19 crisis and associated lockdown. Through acting practically now we can mitigate the life-threatening social and economic impact of the current crisis. Thanks to private donors we are able to distribute seeds to needy families in Marafa Ward. We combine seed distribution with accessible and practical public health advice related to the pandemic.
How can we bridge traditional practices and the demands on responsible voters* in modern Kenya? What can institutional democracy learn from lived social structures? And how can we help to transform dis-functional power structures of power? These ongoing research questions accompany us in our work. We welcome lively exchange with other initiatives in order to learn, develop and exchange!
Funding
Our projects are mainly funded through donations, so your support enables us to do more! From the ubiquitous "octopus corruption", which breaks down our social structures and harms everyone, grows the "flower of communication". We as Peace from the Soil Grassroots Citizens' Initiative are driving the development of our region, which is facing great challenges – become our partner!
To make a donation, please contact
Furaha Patrick Hare (Kenya) kidon_hare@yahoo.de (in English, Giriama, Swahili or German)
or Astrid Kunert (Germany) astrid.kunert@qmr.de (in English, German or Italian)

We welcome questions, suggestions and exchange!
Thank you, from the bottom of our hearts!
Peace from the Soil